This blog explains about an overview of the upgrade process.
If you had decided to upgrade your sap system to the new release (SAP S/4HANA On-Premise 1809), then this blog post is for you.
Stay Tuned!!!

The entire processes of upgrade from SAP S/4HANA On-Premise 1709 or lower release to SAP S/4HANA On-Premise 1809 Upgrade is divided into two phases one is Prepare Phase and another is Realize Phase.
Note:-
Before you upgrade to SAP S/4HANA 1809, upgrade your SAP HANA database to SAP HANA 2.0 SPS03 or Higher.
The SAP S/4HANA On-Premise 1809 Upgrade process includes tools, documents, and many activities that help you to plan and perform the upgrade from lower to higher releases of SAP S/4HANA.
Let's dive in
First thing first
1) Prepare Phase:-
This phase comprises 5 main steps:-
System Requirements
Maintenance Planner.
Simplification Item-Check
Custom Code Migration
Application-Specific preparation activities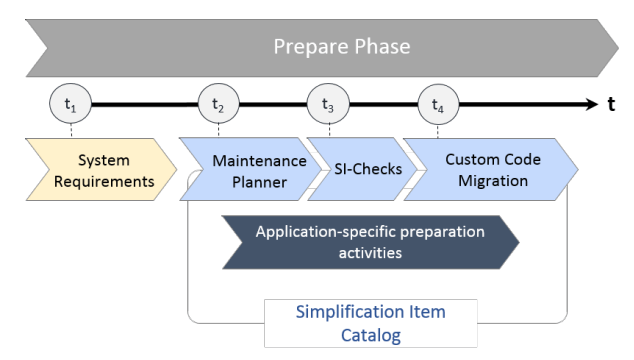 a) System Requirements:-
The Minimum System requirements for SAP S/4HANA 1809.
Hardware Requirements:-
As you already know SAP S/4HANA 1809 runs on SAP HANA 2.0 or higher database. So, to install this database minimum Intel HAswell CPU or IBM POWER8 CPU or Higher are recommended. You can also use Intel Ivy bridge or Westmere CPU based compute nodes if you are planning to upgrade your current system from SAP HANA 1.0 to SAP HANA 2.0.
Operating System:-
These are the supported operating system for SAP HANA Database.
Red Hat Enterprise Linux for SAP Solutions.
Red Hat Enterprise Linux for SAP HANA.
SUSE Linux Enterprise Server for SAP Enterprise.
SUSE Linux Enterprise Server.
Database:-
SAP HANA Database must be latest HANA 2.0 for SAP S/4HANA 1809 Installation. [Steps to install HANA DB
https://blogs.sap.com/2019/02/20/sap-s4hana-1809-installation-part-1/
SWPM:-
"SWPM 2.0 SP01" or Higher required for SAP S/4HANA 1809 installation.
Few Other:-
> Import ABAP Phase is removed from the installation task list to reduce installation time.
>SAPABAP1 Schema is changed to SAPHANADB Schema.
> No need of extracting 1809 Exports. SWPM will take *.Zip file and extract it later
> Media Download. [ Steps to download & Install Media
[https://blogs.sap.com/2019/02/20/sap-s4hana-109-installation-part-1/
> Installation of the SAP S/4HANA Server along with Fiori Components
using combined SWPM and SUM. Add-on installation using SUM.
[https://blogs.sap.com/2019/02/22/sap-s4hana-1809-installation-part-2/.
we are here to smoothen your journey to SAP S/4HANA.
b) Maintenance Planner:-
SAP itself recommends using Maintenance Planner Tool to plan the installation. The first step is to analyze the source system using Maintenance Planner in SAP S/4HANA Conversion. It became a mandatory solution to start activity in any S/4HANA project either the download the software or check the SAP ERP solution readiness to be converted S/4HANA and building the stack file for system conversion. The tool (Maintenance Planner) creates a stack XML file with the support package stack information, then hand over to the Software Provisioning Manager. Along with stack file creation it also ensures the compatibility of your components, add-ons, and business functions with SAP S/4HANA 1809.
c) Simplification Item Checks:-
It is mandatory step and called by the Software Update Manager. It also identifies simplification items for your system. This step identifies the steps you need to take to make sure that your system is technically ready and can be upgraded. You can directly run your business processes after upgrade process has been completed. Before you start checking simplification item, install the software in your S/4HANA backend system. The Maintenance Planner tool replaced Maintenance Optimizer, which is not supported by SAP S/4HANA.
Steps to Run SI Check:-
Run the SI check to identify simplification items relevant for your upgrade project.
Start the report /SDF/RC_START_CHECK in transaction SA38.
Choose the target SAP S/4HANA version in the Simplification Item Check Options.
Choose the mode in which you want to run the checks.
1) In online mode, the results are displayed immediately after the check
is finished.
2) As a background job, if the check will need a long running time.
4) Run the checks to get an overview over all SI (simplification items) and then check the system consistency with check consistency for all.
5) Check the results.
It also checks you system for data consistency and effects on the data after upgrade. The severity of the resulting messages indicates either there are no warnings, inconsistencies or inconsistencies you need to resolve. These result messages are provided as Green, yello, or Red messages.
Message Overview:-I
d) Custom Code Migration:-
Before upgrading to SAP S/4HANA, you need to check your custom code against the SAP S/4HANA simplifications in a SAP S/4HANA 1809 system with the custom code migration tool. It checks based on SI concept. The tool checks gives a list of instances where your custom code does not comply with the scope and data structure of SAP S/4HANA 1809.
Note:-
While not mandatory, this step is highly recommended. Ideally, you combine the upgrade project with housekeeping activities for your existing custom code base. In particular, you need a consolidated view of productively used custom developments and you should remove custom code that is no longer used.
f) Application-Specific preparation activities:-
These application-specific preparation activities are identified by the SI Checks and custom code migration checks, and documented by SAP notes.
Note:-
Although technically it's possible to do upgrade parallelly or independently. We, as a experienced SAP Consultants recommend you do the steps in the prepare phase in the Sequence listed above.
2) Realize Phase:-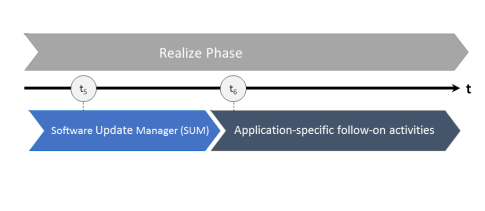 Software Update Manager (SUM):-
After the preparation phase, you start the upgrade process using SUM ( Software Update Manager). Ensure you also check the upgrade relevant simplification-Items. The tool is used for upgrade to SAP S/4HANA. Run the Maintenance Planner before the SUM, because the SUM requires the stack.xml by the Maintenance Planner as an input. The SUM tool also executes Simplification Item and Custom Code Migration Checks and provides you with a list of results that may include manual application specific activities you need to do before the upgrade process can be finalized.
Follow-On Activities:-
Review your existing back-end PFCG role menus for obsolete transactions as well as for transaction code replacements.