Sap Support mainly deals with support and maintenance plan for the clients. It is one of the most important support plans for the clients, according to SAP.
SAP Enterprise Support as many plans which are offered by SAP. The most preferred support plan is SAP Client Connection Program, For basic requirement targeted software development. The next most important for customers is sap standard support services, which mainly deals with basic support and maintenance. That's accompanied by SAP Support services, At present stage without proper business-centric planning delivering the use of this robust tool, the full advantages of efficiency & collaboration cannot be achieved. Dynamo focus on the business methodology and the flow of structure is ideal to each business.we ensure to provide the latest tools and technologies with good experience team support services.
SAP Support services deal with supporting not just SAP applications, and also provides effective support to the customer's with an entire platform, including like partner applications and mission-critical customer, according to SAP. It is specifically designed to assist any length of the organization, any industries, or application configuration.

SAP Support Levels of agreement
SAP support levels of agreement for starting response time(1hr for priority 1 (P1) and 4 hours for priority 2 (P2) messages) and a priority 1 curative action commitment SAP Standard Support will not provide this kind of level of agreement services.

SAP Enterprise Support clients have access to the SAP Enterprise Support Academy, it is mainly used to develop critical knowledge and skills to the users through different methods of learning formats and programs. These application distance from self-service exercises such as SAP's Quick IQs to live, hands-on direction and remote guidance from one of SAP's "Meet the Experts" sessions or Expert Guided Implementations discussions. SAP Standard Support clients don't approach the SAP Enterprise Support Academy.
sap support launchpad

SAP ONE Support launchpad allows customers work on the latest technologies with centric and guided access to the future generation pf services and support applications.This application designed based on user Profiles, and providing end-to-end complete support for the favorite systems,deployed products etc.S
SMS Notifications for SAP ONE Support Launchpad :
SAP support is also used for the SMS notification and its includes many other sectors like:
Critical and value-added notification
Launchpad
E-mail
Sms messages
With this Sms messages, you can receive the important information on your Mobile devices.
SMS Coverage : Sms message covers the following types :
Incidents
SAP notes
Knowledge-based articles (KBS)
Guided work-list
Services Messages
System updates and many options.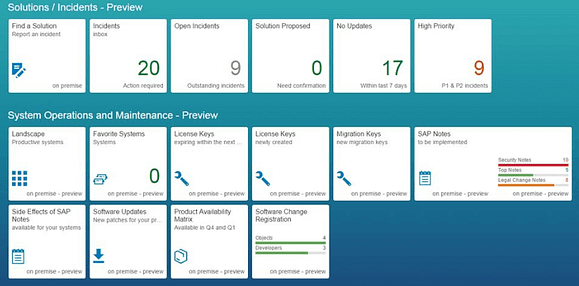 How to choose the right SAP support and maintenance in 2019:
Identify if the provider will fit your requirements
Always try to choose the right sap partners, who as good team and experts in SAP Support services to give the suitable levels of support for your requirements. Notwithstanding accommodating your industry-explicit necessities, additionally assess how quick their response times are, the means by which they support in instances of improvements, reconciliation, updates and so on.

Focus on these key qualities:
Satisfactory size of the SAP redistributing organization, just as an arrangement of culture to your business.
High transmission capacity to give the required support and maintenance.
The dynamic way to deal with giving brisk and significant reactions to address your worries.
Status to ensure your information and data consistently.
Develop a good understanding of their expertise and strengths- Verify whether your choosing a good experienced partners, with the best possible dimension of skill and ability. Guarantee your potential SAP supplier has enough information and comprehension of your business procedures and objectives.

Focus on these key qualities:
Make reliable time of work with SAP in the market.
High SAP experience, incorporating a few SAP items in the portfolio.
Strong technical SAP skills and make to apply them to your business operations.
Tributes from dependable customers.
3. Evaluate if they offer flexibility :
Each business is novel and has its very own unique requirements. In this way, the correct SAP supplier should offer customizations over the scope of administrations, and an individual way to deal with each client to make an arrangement that will convey the correct ROI for your speculation.

Focus on these key qualities:
The adaptable scope of SAP services.
Diverse dimensions of services relying upon the span of your organization and business objectives.
The adaptability to pay just for what you need.
SAP certification
SAP is an unpredictable programming requiring genuine specialized learning. Guarantee that your potential supplier is a believed SAP affirmed accomplice who is devoted to consistent expertise redesigns and looking after competence.

Pay attention to these key attributes:
Confirmed SAP certification.
Trained and qualified staff.
Ordinary interests in guaranteeing state-of-the-art abilities in the group
SAP Enterprise Support license buy price:
The SAP Enterprise Support presents the SAP support engagement Where SAP commits to disentangle and enhance business and IT operations, limit business interruption, and speed time-to-value with the quick selection of development. SAP Enterprise Support incorporates application upkeep i.e.,continuous improvement and development (for example, new programming discharges, and support packages) and to convey an incentive along the four elements of
cooperation with SAP specialists
strengthening (for instance, by means of the SAP Enterprise Support Academy program)
development and esteem acknowledgment (for instance, by means of SAP Enterprise Support esteem maps)
mission-basic help (counting administration level understandings for episode taking care of and remedial activity plan recommendations). Likewise, SAP Enterprise Support incorporates improved utilization rights for SAP Solution Manager (for instance, for business process streamlining, process documentation, and custom-code the executives).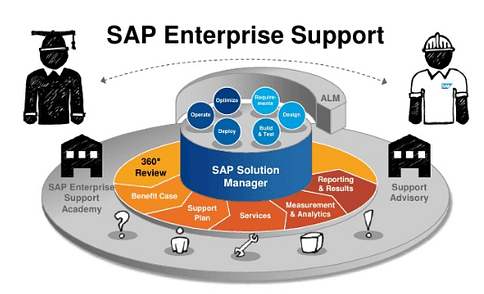 SAP Standard Support of the license buy price)
The SAP Standard Support services incorporate application upkeep i.e., nonstop improvement and advancement, (for example, new software discharges and support bundles) – just as benchmark bolster administrations to empower ceaseless and viable activities of SAP arrangements. It gives a scope of devices and remote administrations intended to keep up the specialized strength of SAP applications and react to specialized interruptions just as devices to all the more likely oversee SAP arrangements – for instance, use rights for SAP Solution Manager. Clients profit by SAP Standard Support as far as solid reaction to specialized interruptions and continued framework trustworthiness.

For more topics on SAP SUPPORT: